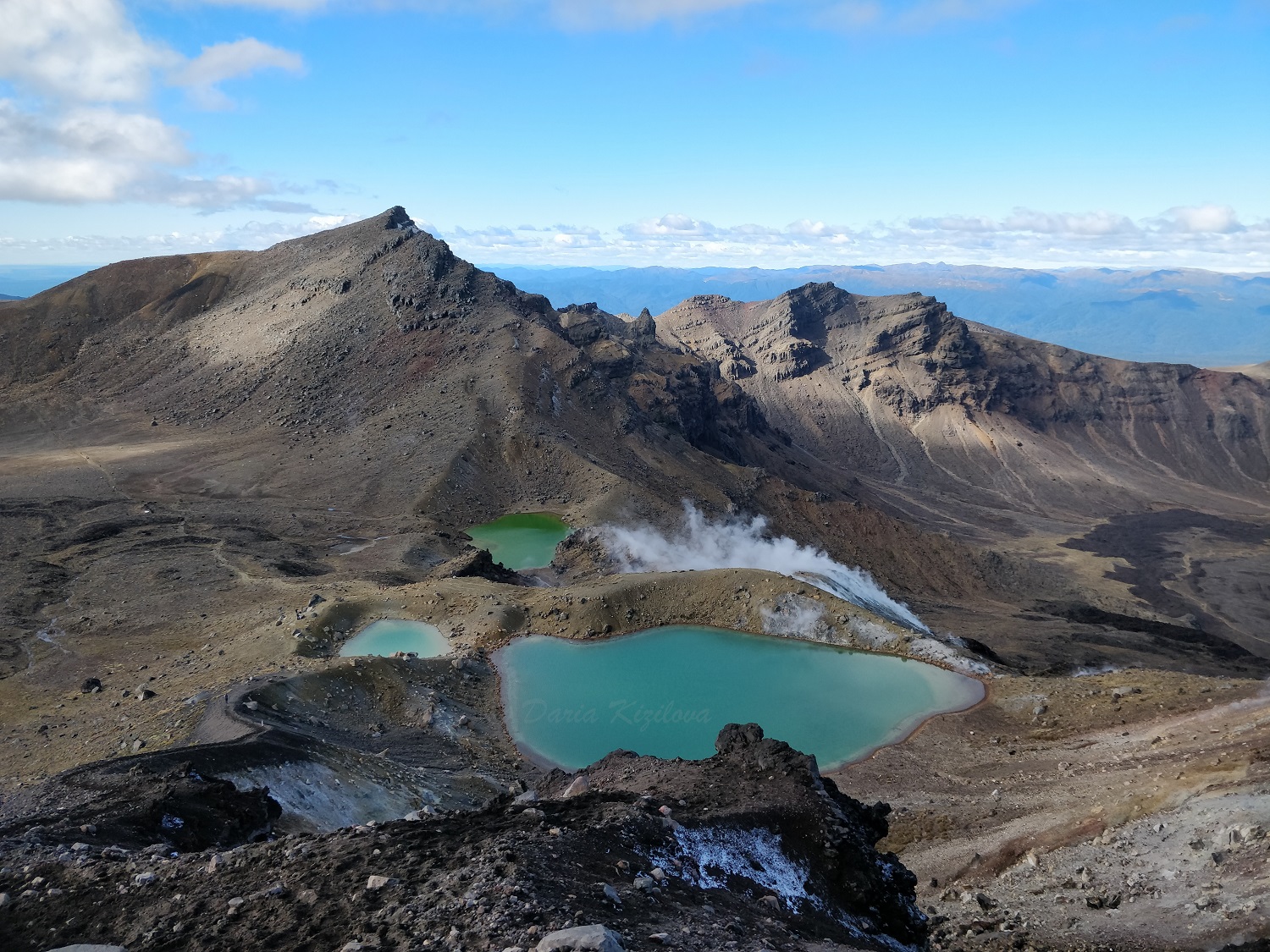 Tongariro Northern Circuit is one of the most amazing Great Walks in New Zealand! Though it doesn't provide those snowy mountain landscapes that you enjoy in the South Island but it offers truly unique and diverse environments along the whole 2-4 day hike (45 km).
The most beautiful part of this hike – Red Crater and Emerald lake – is included in Tongariro Alpine Crossing (a very popular day hike). This place really looks like another planet, that's why the hike is loved by New Zealanders and tourists so much. Tongariro Alpine Crossing is considered the best day hike in NZ!
This little guide will help you get ready for the hike and will show my personal experience too.
Tongariro Alpine Crossing vs Tongariro Northern Circuit
The Alpine Crossing is a long 1-day hike (7 hours) that is very popular among tourists. Tongariro Northern Crossing is a multi-day hike (usually 2 to 4 days for most people). They have one section in common – a challenging hike up to the Red Crater with the beautiful view over Emerald Lakes and Blue Lake.
After that section, on the Tongariro Alpine Crossing, you keep meandering and slowly going downhill to Ketetahi Road car park. Though when doing the Northern Circuit, you will have a quick descent to Oturere Hut after the Crater and Lakes section. This DOC hut is just amazing and the views around are just stunning! Oturere Hut is really small and cozy. Some bunk beds are situated in the same room with the kitchen and the fireplace which makes it quite crowded. The campsite is available too, it is right next to the hut. The views are all over the mountains. It is worth staying a night in this magical place right in the middle of Tongariro National Park!
It is up to you which hike to choose. Both of them are very gorgeous and maybe a bit challenging.  The Tongariro Northern Circuit provides a complete experience of different environments inside the park. The hike is really diverse and changing, the huts on the way and the little side trips – make it an unforgettable trip!
 What You Can Expect from the Tongariro Northern Circuit
Tongariro Northern Circuit may be quite challenging but it all depends on the weather, your level of fitness & how fast you're planning to do it.
The views are amazing throughout the whole hike. Obviously, the best part is the elevated part – the Crater and the Emerald and Blue Lakes. But even before and after that, there are plenty of things to see and experience. The road towards Oturere Hut goes through the Mars-like environment with all sorts of red rocky stones of beautiful shapes. After the Oturere Hut it keeps going up and down until you reach the forest with very nice views over the valley. The iconic mount Ngarahue is always present along most of the hike.
Tongariro Northern Circuit Heights
The hike is a circuit and it starts and ends at Whakapapa Village at around 1000 m. Most of the hike just keeps going up and down 200 m except for the main scenic section. When climbing up to the Red Crater and the Lakes, you will reach over 1880m elevation. This section is fairly steep but very rewarding. The top part gets windy quite often and sometimes catches bad weather. You can reach this section via Devil's Staircase (if going clockwise) or you can do a rocky ascent from Oturere Hut (if going anti-clockwise).
Both ways can be equally done in good weather. When it gets very windy, the DOC usually doesn't recommend going to the Red Crater and advises to change the route or to stay an extra day in one of the huts.
Here's the diagram showing the Tongariro elevation by day.
Tongariro Northern Circuit Difficulty
Tongariro Northern Circuit is rated as an advanced Great Walk. It can be done in 2, 3, or 4 days. Depending on how fit and experienced you are, you can choose the most comfortable length of your hike. I would say that for most people 3 days would be a great option.
Tongariro Northern Circuit in 2 days becomes quite challenging but still not too bad. Mostly because the first (or second) day is long with a steep climb up & down. And the second (or first) day is even a little bit longer without steep climbs. In this case, you will sleep at Oturere Hut (this one books out faster than other huts).
2 days option is great when you are not sure about the weather because you can change the direction. The sunniest day, of course, should be attributed to the Red Crater and the Lakes.
Tongariro Northern Circuit in 3 days is just right because you don't need to rush out and you can get plenty of rest during those 2 nights in the huts. And it is especially good because you have time for side trips. I don't know if I could do all the side trips (especially Tama Lakes) when hiking Tongariro Northern Circuit in 2 days.
Tongariro Northern Circuit in 4 days is a very relaxing option if the weather is good all 4 days. In this case, you can sleep in every hut and probably see more and have plenty of time for all the side trips.
Tongariro Northern Circuit by Day (Clockwise)
If done in 3 days, the best option would be to stay at Oturere Hut on the first night and to stay at Waihohonu Hut on the second night. In this case, the first day will be quite long (20km) while the second day will be very short (only 8km). On the third day, there will be enough time to do the Tama Lakes side trip.
Day 1. Whakapapa Village to Oturere Hut
The hike starts at Whakapapa village with a rather flat and not well-maintained part of the trail going mostly through the forest and open bits. The very start is also known as Lower Taranaki Falls Track because it is a part of the loop to Taranaki falls. After about half an hour, the track becomes Mangatepopo Track leading to Mangatepopo Hut.
Somewhere by the Hut, Tongariro Northern Circuit crosses Tongariro Alpine crossing that starts just a few minutes to the west at Mangatepopo car park. Now both hikes go together as one, and they split just before Blue Lake.
After Mangatepopo Hut, the track is really well maintained and nice. Tongariro Alpine Crossing is the most popular day hike among tourists.
Just before the Devil's staircase, there's a quick side trip to the waterfall which takes only 10 minutes. The Red Crater is after a long line of stony stairs and a decent climb. After some more climbing, there's an amazing view over Emerald Lakes.
Some hikers explore the nearby Mount Tongariro though DOC doesn't recommend going to this sacred mountain.
Next, the road turns right and swiftly goes down to Oturere Hut. There's an option to have a quick 10 mins walk to Blue Lake and back to the crossing. That's when the views around look extraordinary – red rocky planet. But the views at Oturere Hut are just breathtaking, especially at sunrise!
The mountains around the Hut have vivid pristine colors at tiny blinks of sunshine. Scary Mount Ngauruhoe is right next to the Oturere Hut. A big waterfall can be seen from the hill, though there's a little hike to get closer.
Day 2. Oturere Hut to Waihohonu Hut
The next morning, the road keeps going up and down towards Waihohonu Hut. It is a quick day without side trips. Just before the Hut, the road goes down into the forest, and after that, opens up into a spacious valley.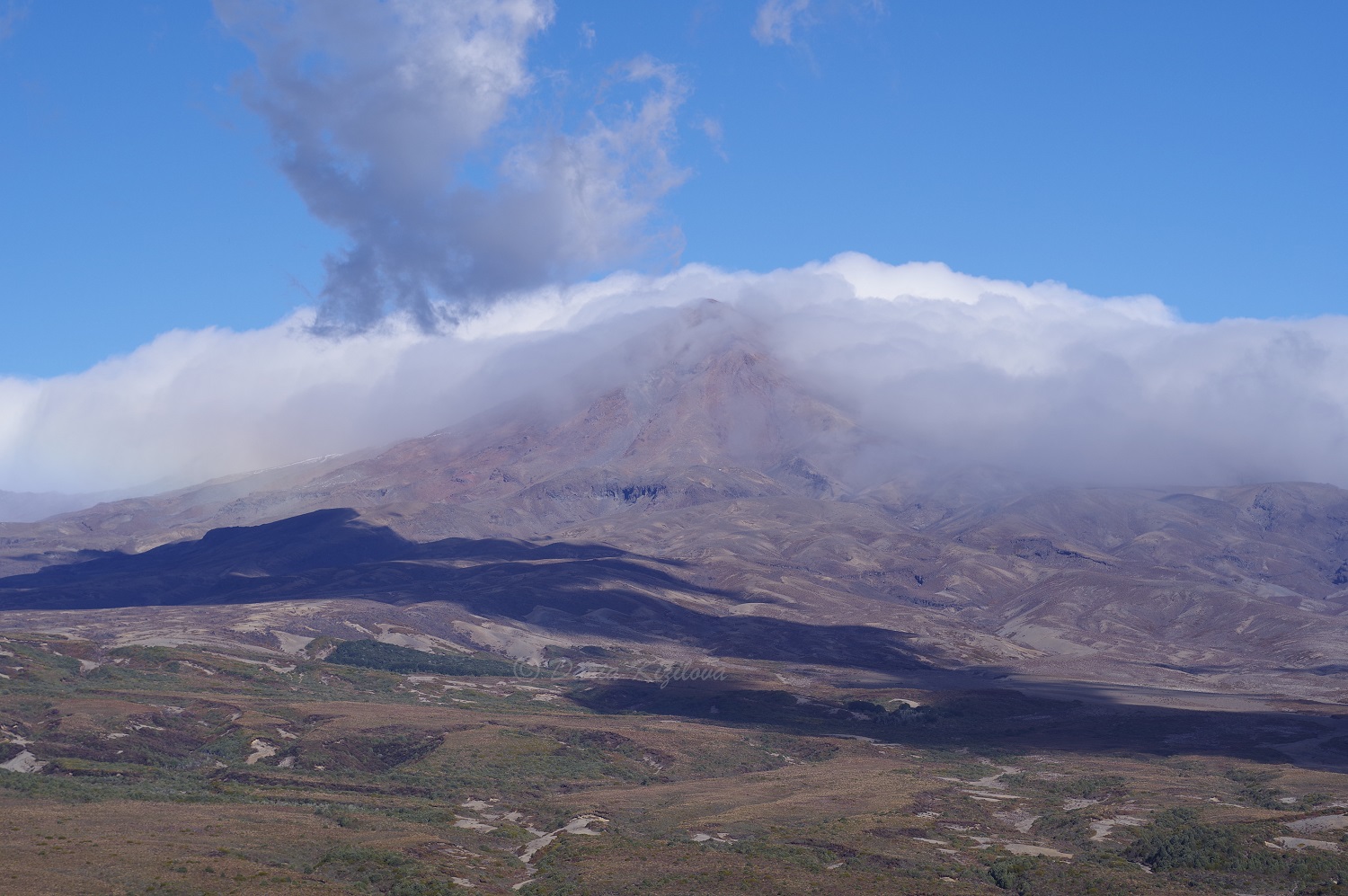 Further on, you can see Waihohonu Hut which is very big, new, and comfortable. It has large windows over the mountains. There's a quick side trip to Ohinepango Springs which also transforms into Rangipo Track and Round the Mountain Track.
Day 3. Waihohonu Hut to Whakapapa Village
The next day starts with quick sightseeing of Old Waihohonu Hut which looks very lovely.
From Waihohonu Hut back to Whakapapa village, it is a 15 km (3.5-4 hrs) walk. With Tama Lakes side trip it takes maybe an extra hour longer. Tama Lakes it's a great hike that should not be definitely missed! Both Upper Tama and Lower Tama are worth seeing. The hike offers magnificent views.
Just before the end of the trail, there's Taranaki waterfall – quite popular among tourists. Tongariro Northern Circuit ends where it starts – at Whakapapa village.
According to me, Tongariro Northern Circuit is just a bit better than Tongariro Alpine Crossing. It offers different landscapes and environments and allows staying at beautiful huts in the very center of Tongariro National Park!