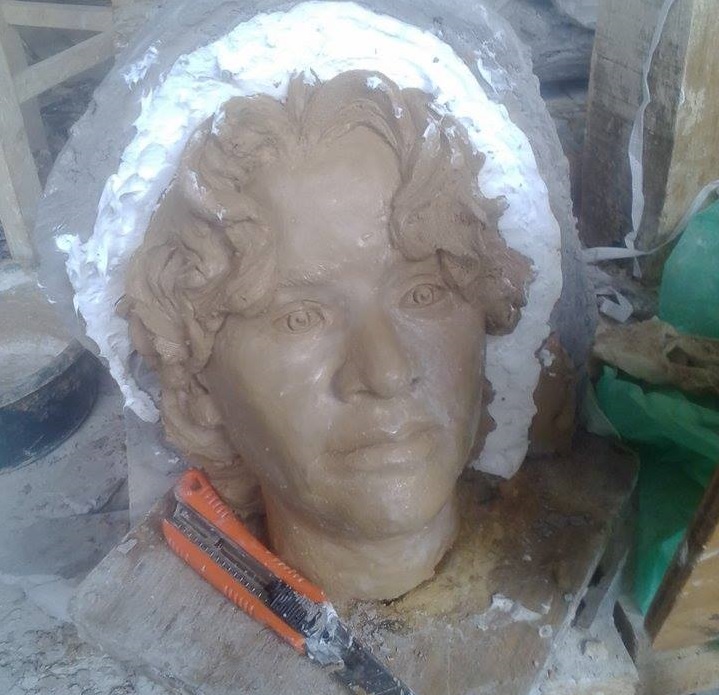 I met María José – a great personality and sculptor, very talented and creative – on the wonderful coast of Costa Rica. It was a spiritual encounter and it enriched us both. Now, after so much time spent I wanted to share this interview with one of the best artists in Honduras:
Maria, tell us more about your life. What is the story that preceded the beginning of your work as an artist?
History of my life … I began to draw as a child, trying to better understand the "adult language" … I remember that concern to know what "making love" meant and even more disturbing to me why I was forbidden to see those "Parts in the movies". And I started to draw what I thought it meant and it was thousands of hearts that I just drew, and I asked my mom if that was what it was and just let out a smile. Until of course, I knew and then I did not draw what I did not understand, but everything I wanted to keep or simply what I liked … Keep all the pets I had and who died; I drew them and placed his drawings where they were supposed to follow. I put my parakeets back in their cage and my white rabbit draws it on the moon. What I liked, well, I drew Tom Cruise many times … Well, well, I went to the plasticine and to the laymen and nowadays I make sculptures mainly in clay (very similar to plasticine) … Perhaps wishing that this material would become magically what I want or who I want.
Great thanks! What inspires you the most in creation?
In life I have met wonderful people who inspire me, not only sculptures, paintings or stained glass; They inspired my poems, some songs from my harmonica, some trip and above all to not to stop. And that I always appreciate, that's my will and my strength for each project. Because not only am I believing in myself; it's me and all of them believing in me … There's nothing else I need. It is constant reciprocity.
Talk a little about the work process how it works.
Well, it's almost like, caressing my work; transfer what I imagine or what I want to perpetuate reality, for me and for the rest of the people, in the material provided. Sometimes it is even; satisfy my appetites, caprices, outbursts, boiling or excitement, through art. It is filtering my hands and tracing my footprints in matter; it is not the technique that is used, it can already be direct carving in stone or wood, resin, casting, embossing; it is the feeling that materializes and diffuses through artistic expression, which makes it possible to create or recreate moments or pieces of exceptional moments to prolong.
What work did you do that seems closer to the vision you had before starting it?
The truth is that no work is exactly the same as how I conceive it … because it evolves along the way … and there lies the taste of what I do … that does not turn out the way I plan it, most times it's better and if not, I learn even more …
What, above all, do you want to pass to the people for your work?
Not many years ago, my interest in art grew more; I discovered the true intention of art. Through art people are feeling … and that's what I'm looking for in people.
What advice would you give to new artists?
I always advise new artists to balance the work between concept and form because both are necessary … conceptual art devalues one of the main characteristics of art … which is aesthetically and perhaps less important but it does not stop importing.