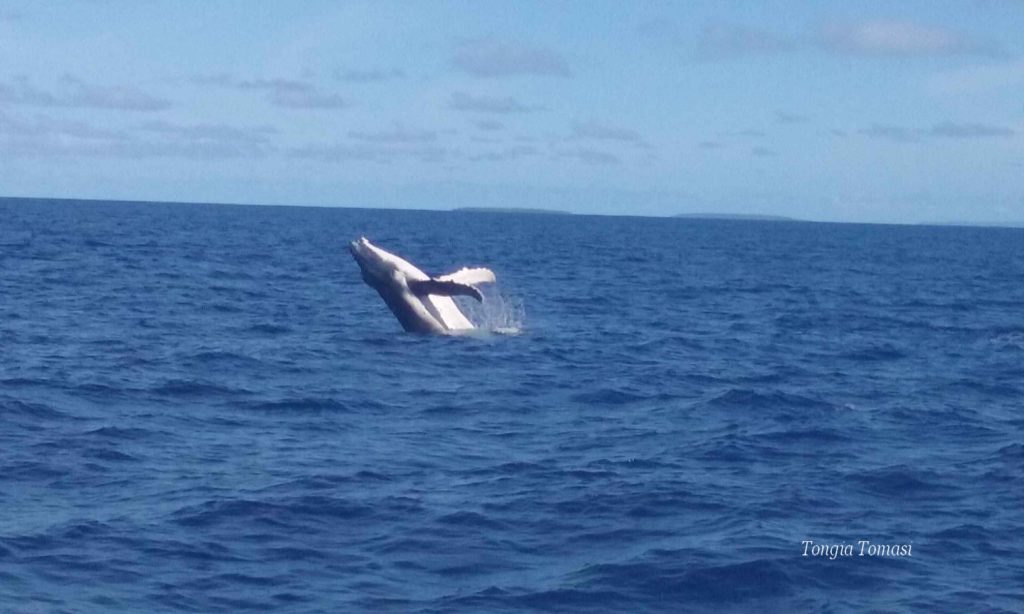 I had an amazing, the most memorable encounter with huge Pacific whales here, on Tonga, in the very heart of the South Pacific! Tonga includes 170 islands scattered over 700,000 square km of the Pacific. You can move between them on the ship or on an airplane. On the islands, people adhere to the old way of life: they fish, feed directly from the sea, live in a simple way in small wooden houses, raise livestock. Pigs walk along the streets with barefoot children.
Time is slowing down on Tonga. People are always positive, there is no turmoil and stress as in developed countries.
Culture of Tonga as it is
Everywhere you can hear "palagi" – that is how they call foreigners. White people are treated with unrestrained interest and respect, they are often respected more than locals. Children are especially fond of welcoming the visitors – they rushed after me, shouting "Paalangi", looking at me, asking questions. 🙂 Sometimes, if I was in a bad mood, local people on the street asked me if everything was alright.
Crime is mild on the islands of Tonga. People here are very religious. Sunday is half-time in church, then people gather in families — talk, eat, and sleep. Most of the population sticks to the Mormon church. On Sunday (sometimes not only) men wear traditional long skirts with large belts.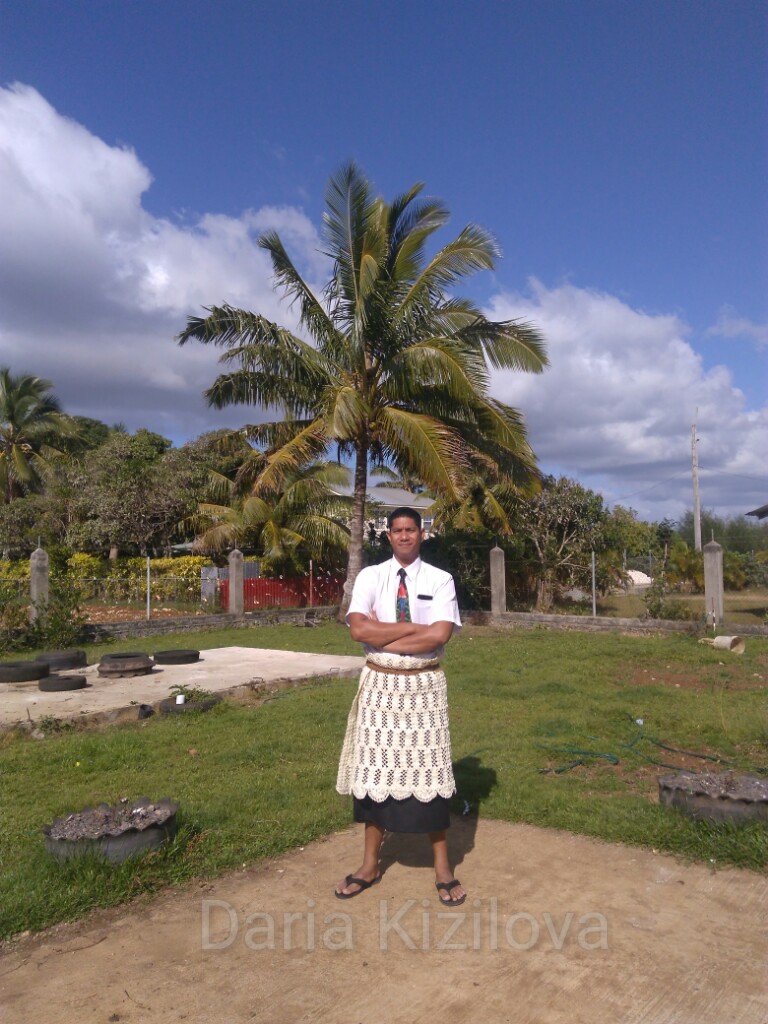 Women wear long bright dresses – yellow, orange, blue, decorated with fancy colors. They also wear hand-made belts. The boys' school uniform is also a long skirt-pareo of a certain color, depending on the school, and a straw belt.
Tonga is a kingdom, the royal family is very much loved and respected here. People from noble families of the royal dynasty are obliged to wear belts constantly.
Traveling between the islands and meeting with the whales
I was lucky to meet people who do water excursions for tourists wishing to meet face to face with these unimaginable mammals. Actually, I lived with these people. Usually, the day of the whale walks begins at 9 am when the boat leaves the port of Nuku'alofa to search for whales. It can take from half to three hours.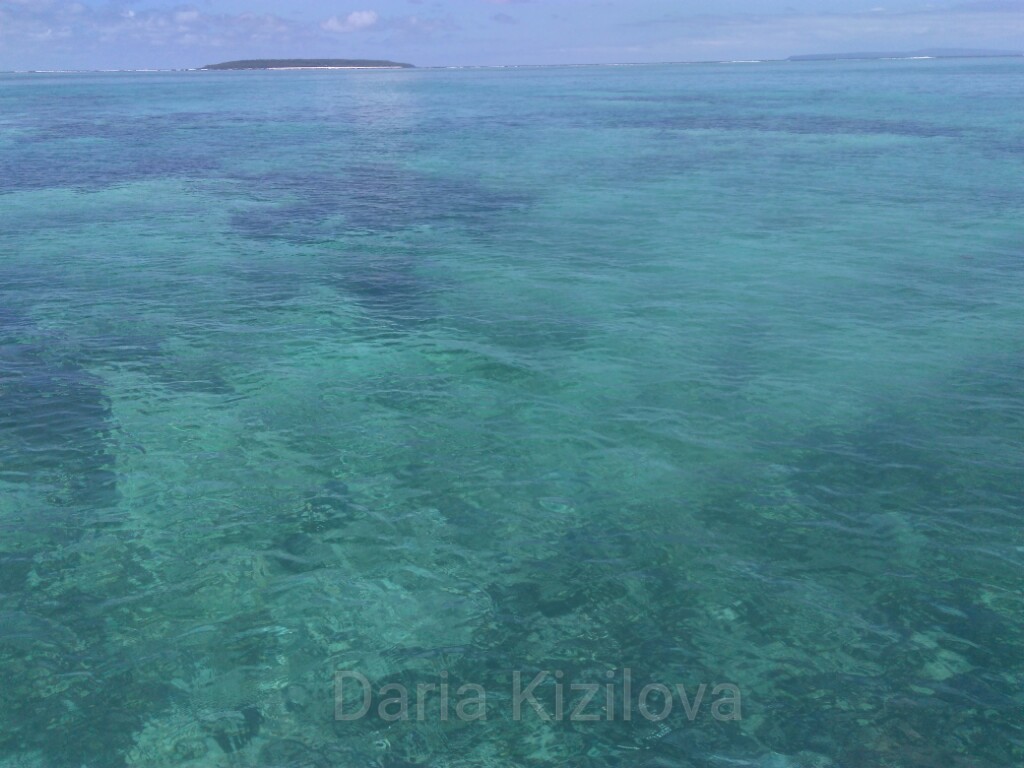 When the whale is found, the boat slows down, trying to swim up to it silently. The goal is to find a calm whale that rests in the water and does not move actively. After all, everyone wants to go into the water to look at the whale with a mask! Whales like this are usually moms with babies or mom and dad. It also happens that the whale is constantly in motion, and the boat can pursue it for a very long time. By the end of the season, whales become very sensitive, and it is difficult to find a non-drifting whale, much less swim up to it silently.
In the water, whales do not harm. If you do not swim too close and stay at a distance of 2 meters, then there is no danger that a whale hits you with its tail. Of course, it is forbidden to touch the whale! Some tourists manage to touch a little, but in this case, the whale immediately swims away. And you need to look for another one.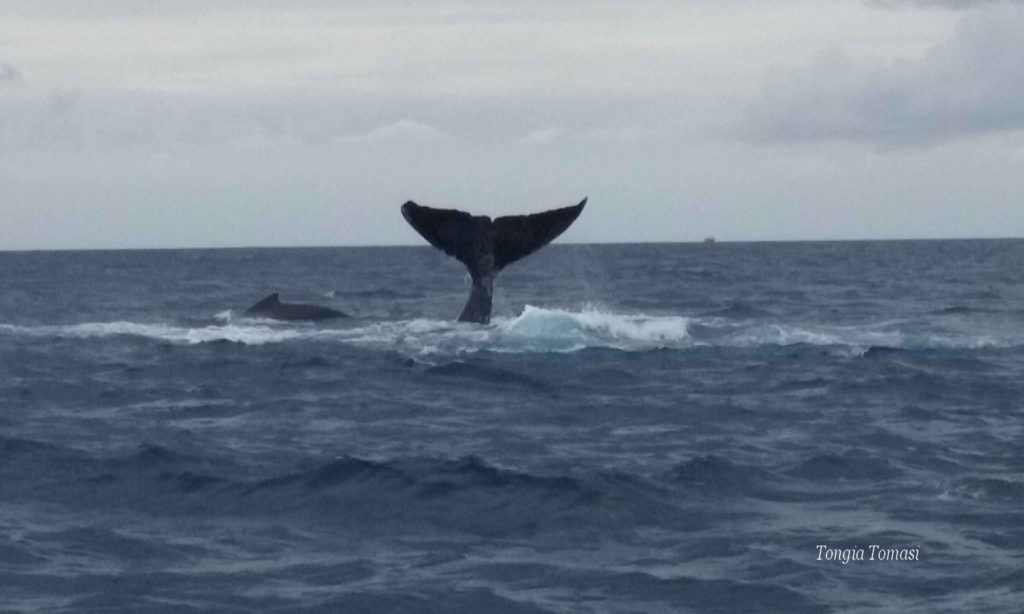 Whale mothers are usually inactive. They lie closer to the bottom, making oscillations of the body. Children play around, they tumble, can wave a flipper or wag the tail. Periodically, the whales emerge to take a breath of air. Through the mask, you can see the whale with all clarity. It seems huge and frightening, but in fact, he is very calm and friendly. It slowly looks at you and seems to be about to wag his tail – then you need to swim a little away from it. It is necessary to keep closer to the whale's head but in no case should it block its path. The tail part is the most dangerous, mobile and unpredictable.
When the whale walks are over, we go to one of the nearest paradise islands – Nuku, Tau, Molinoa, Evaiki, Fukave, etc. These islands are so tiny that they can be walked around the perimeter in 10-20 minutes. From a distance, they all look like a handful of palm trees, surrounded by white sands. The smallest Tau is an island that can often be found on postcards. There are many living creatures on Tau, both at sea and on land. Many crawling shells and small sea creatures.

The whale season begins in July when you can meet up to 15 whales in the water at the same time! Dolphins play with the whales in the water, and sometimes sharks swim to the side. The presence of a large number of dolphins near the whales often means danger. Dolphins are unique creatures – protectors and helpers. If sharks are ready to attack a whale, dolphins develop vigorous activity in the water distracting and delivering the first blow to the sharks. These are very fighting and brave creatures that often help people out.
In Tonga, a walk with whales is the most vivid entertainment. Millions of tourists come every year just because of this. Some book several day tours in a row to spend more time with the whales and even touch them! The country's budget is replenished mainly due to them. One tour like this can cost from 150 to 200 dollars.
Whales often sing whale songs that can be detected using a special instrument. These songs change every year, different whales sing a little differently.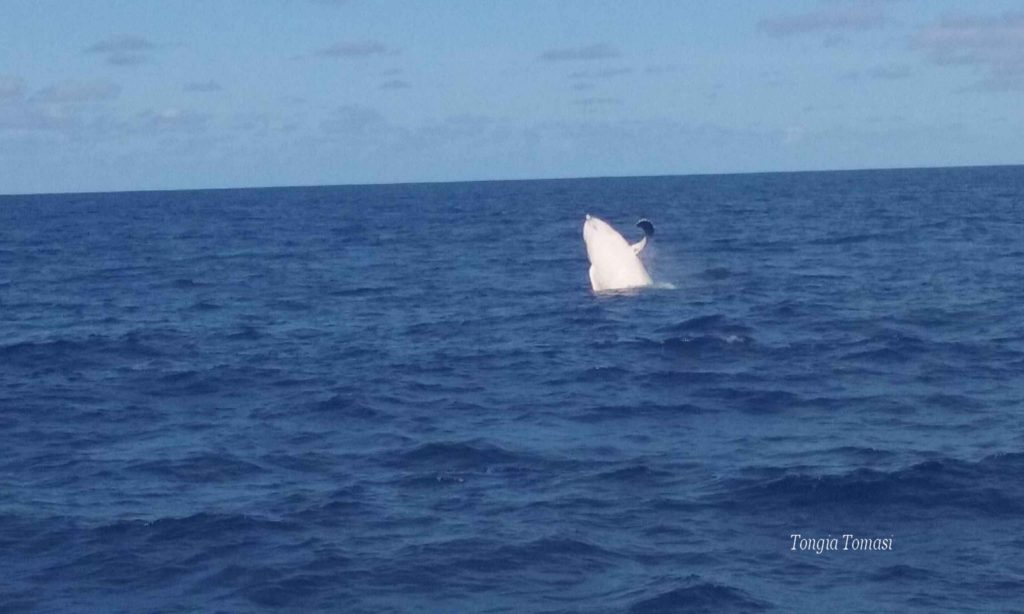 The season ends in November when the whales go into the cool waters of Antarctica. At this time, extreme heat begins in Tonga – the locals go to work in the nearest countries – to Fiji, to New Zealand and Australia.
What else to see in Tonga?
There are 4 main groups of islands: Tongatapu, Vava'u, Haapai, and Niuas. In Tongatapu, you can go to several beautiful southern beaches, from where you can see the nearest inhabited island of Eua. On one of the beaches, due to the strength of the waves and holes in the rocks, fountains of water are formed – Blow Holes. In the east, there is a huge Anahulu cave, inside there is a cool lake, and the descent into the cave itself begins at the seashore, stretches almost 8 kilometers underground and goes out in the middle of the village.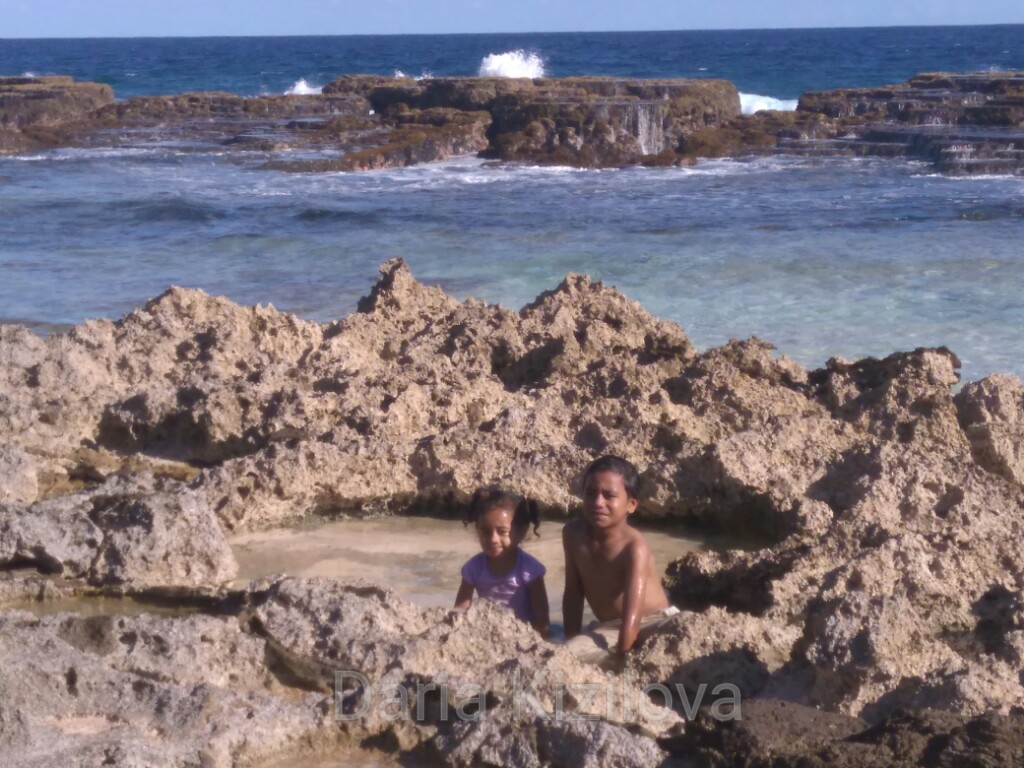 Vavau and Haapai are volcanic islands: there are more green, mountain paths, and beaches, they are located north of Tongatapu. Niuas are the two most distant islands that are located closer to another Samoan state than even to the capital city of Tonga. The people of Tonga and Samoa do not like each other. Long ago, the kingdom of Tonga was the most powerful in Polynesia and fought with other islands, acquiring their lands, such as Samoa.
Traditional Tonga Cuisine
Locals eat in a simple way: boiled root vegetables – cassava (it tastes like potatoes), sweet potatoes of purple color, as well as ordinary potatoes and meat (pork or beef). On holidays they like to roast a pig on fire. A separate delicacy is a raw fish. Usually, it is cut into cubes and soaked in coconut milk with red pepper and cucumbers. This dish is called ota ika.
Everywhere in the city, you can find restaurants of Chinese cuisine that are much cheaper but not so tasty.
How to live in Tonga
Getting to Tonga is not easy. It is best to fly from New Zealand or Australia – it costs 200 dollars. It is also convenient to fly from Fiji ($ 170) since this country has a convenient location, many Pacific flights pass through Fiji. There are also more expensive flights to Tonga – from Honolulu and Japan.
Hotel accommodation in Tonga starts at $ 15 a day. The average lunch is from $ 5 a day. There is no free wifi here, but the Internet is available and has good speed for islands.