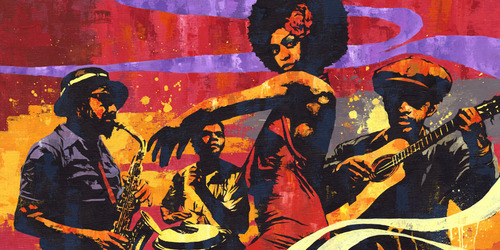 Salsa is one of my passions for my whole life. In general, I love Latin American dance. But in salsa what I like most is music, especially Cuban salsa.
In Cuba, salsa is treated as a living being, the heart of the people. Every night around 7:00, there are salsa concerts at the music houses in Havana. You can get the program of musical events in the cultural heart of the city is located in Miramar. The city has two important music houses, one is located in the heart of the capital – Casa de Música de la Habana (on Neptuno Street), another in the so-called prosperous area – Casa de la Música de Miramar.
Tickets for the concert cost $ 10 for visitors and 10 Cuban pesos for the natives (which is approximately 10 times cheaper). If the band is not on tour, there is a presentation of the music to the people and the tourists every week. Basically, you can listen to these artists: Alexander Abreu and Habana de Primera, Maykel Blanco and His Salsa Mayor, Juan Formell and Los Van Van, Elito Reve and his Charangon, Lazarito Valdés and Bamboleo. Basically, a salsa band is formed around a single artist so they have a name like Name of the artist + Name of the band.
The show begins with a warm-up of young artists and after the audience warms up, they can listen to timba masters. Before the presentation, you have to wait in a large queue (or better come two hours before), especially if the ensembles that present their music that day are very well-known beloved. For example, this was the case during the concert of Alexander Abreu and Habana de Primera.
During the presentation, everyone dances and sings together with the artist. After the presentation, the club is not closed, and you can be there until 2 a.m.
So, let's explore some Cuban salsa groups. I will specify the ones I really like and enjoy their music. But there are lots of others, and every year fresh musicians keep appearing on stage.
Here's the list of famous Cuban salsa bands:
Havana de Primera
This band was very popular a few years ago, but in recent years it has become one of the most well-known and loved in Cuba. Alexander Abreu formed the band, he was born in Cienfuegos and started with small presentations. After traveling through Europe, he finally formed the band as it is now.
The band can be heard here.
Lázaro Valdés and Bamboleo
The band was formed in 1995 and has been central in the 90s. Its founder – Lazarito Valdés, as well as the two main singers – Haila and Vania Borges. Unfortunately, they do not sing anymore in the band and, then, it seems to me, a lot of flavors have been lost. I like the singer Vania a lot – she has a strong, rich and emotional voice. You can listen here.